Our newest graphic artist, Aliz Buzás, chooses themes from her surroundings with an incredible eye, and thanks to the original and demanding workmanship, her images are absolutely lasting. For example, the series presenting the diversity of the districts of Budapest is completely unique, but the illustrations depicting parenthood, which are often figurative, or the transport-themed pictures are also real gems in our offer, where you can find limitated and unlimited editions as well. Welcome aboard, Aliz, we hope to put a smile on many faces with your fantastic artworks as we work together!

What were your first drawings that you specifically remember?
One of my very first drawings is in my office, I copied this from some Christmas postcard around the age of 6 and asked my mom to write it down on a piece of paper I was dictating to her and copied the letters from there. I don't know if this is a poem, but if so, it's my first and only poem :) It feels good to look at this drawing sometimes while working and to remember how obsessed I was with this.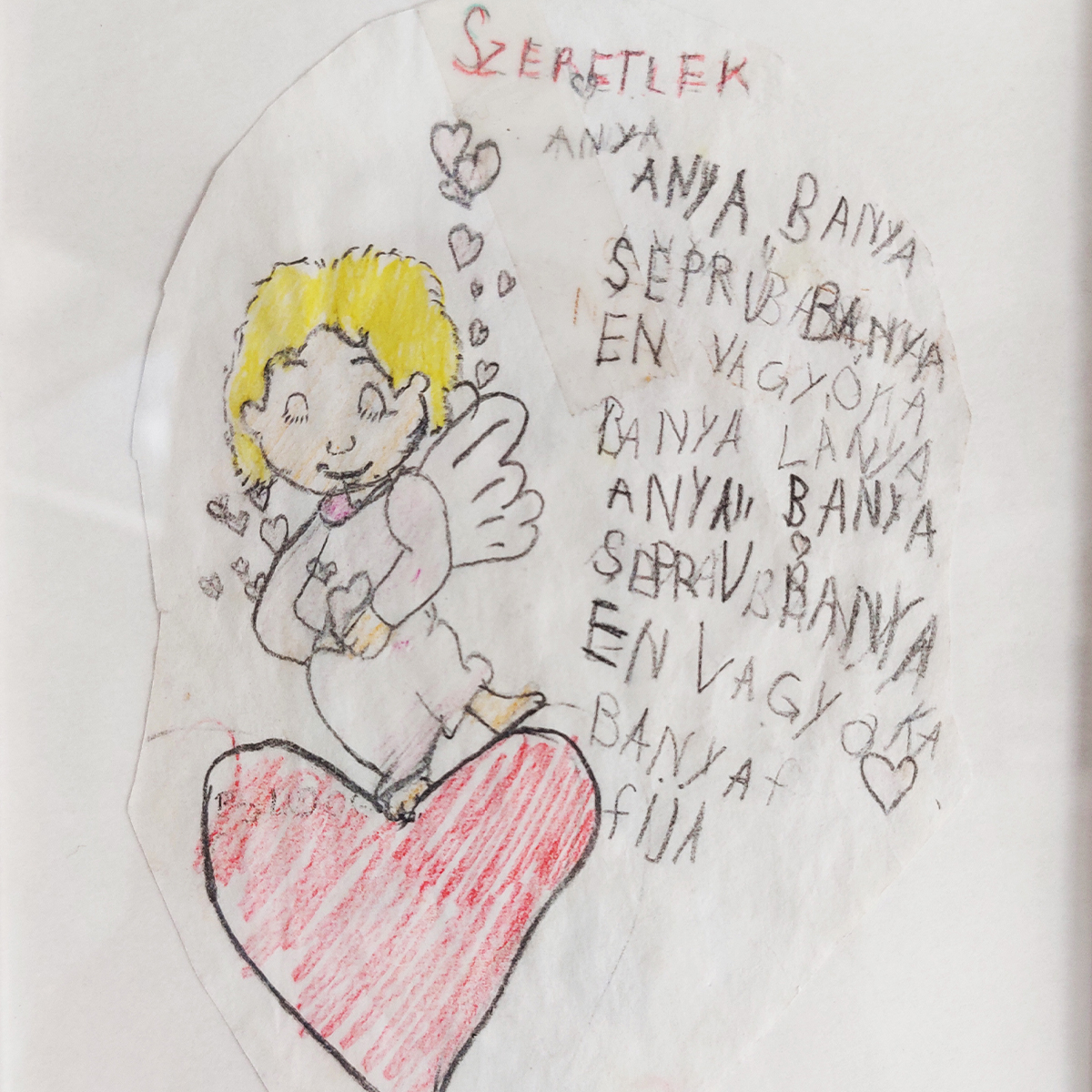 Aliz Buzás, I love you Mom
What is your best memory from your childhood?
My best memories are the days when I was in the countryside with my grandmother in the summer and we did everything together if I was an adult too. We peeled green peas, cooked lunch, baked cakes, plucked chicken and I got involved in everything. These things have added a lot to my life. Somehow my grandmother had trusted me since I was a little kid and that was such a liberating feeling not to be treated like a toddler. My grandfather built a bunker for us grandchildren from two openable ladders and blankets in the yard and I remember we played cards together and Grandpa always cheated. :)

Where did you learn to draw when it turned out to be your way?
I've been drawing since I was a kid, I think it was kind of a safe cover in my life. First I copied the drawings from storybooks, then I started going to a drawing school in elementary school, where I had a fantastic teacher who supported me in everything. I've known since I was about 6 years old that when I grow up, I still just wanted to draw. I also went to high school in Szeged to study graphics, then I graduated from MOME in 2016.
Now what kind of topic and technique do you deal with to spend your creative days?
I work on several jobs at once and there are always new ones in addition to regular clients. Freelance work is very varied and exciting for me, I never get bored. In addition to paid inquiries, I always draw something just for myself that just inspires or employs me and if I share these I get those types of job searches. For example, if I draw on a political topic for myself, there is a good chance that I will find such work in the near future. I used to draw a lot of public transport because I am inspired by old vehicles, and now I draw posters for a customer on a transport topic.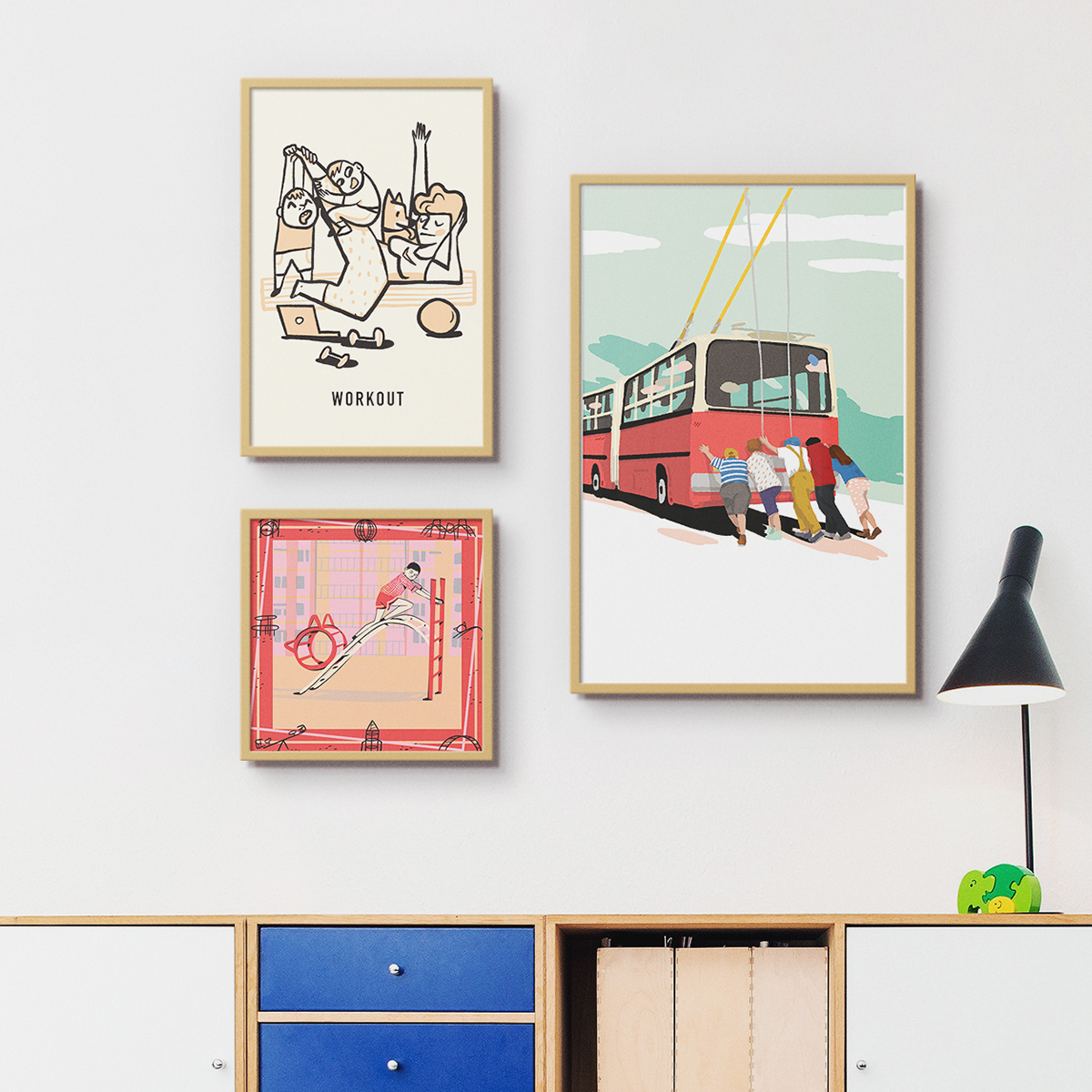 Aliz Buzás, Workout, Troli-tolók, Retro playground
Your favorite city? Favorite place to travel?
I don't even remember where I last traveled, it was so long ago. We loved to travel, but as the covid started, it completely stopped for us. I love living in Budapest, I think I have lived in about 16 places in the city for 10 years, but it looks like we have now found our final home. We would definitely like to go back to Tenerife sometime, because the diversity of the island and the kindness of the people was such a great experience.
Who is your favorite writer? What kind of music have you been inspired by lately?
I read a lot of books and even if I have a digital book reader I have noticed that it still gives me more pleasure if I can hold a real book in my hand. The paper, the cover all add to the experience. My favorite writer is Krisztián Grecsó lately, but I am currently reading a book from Kata Tisza. I have a playlist I put together specifically for work from my favorite music, but lately I prefer to work in silence. Many times I prefer to put in podcasts instead of music, and among them I like to listen to actors the most telling stories about their lives.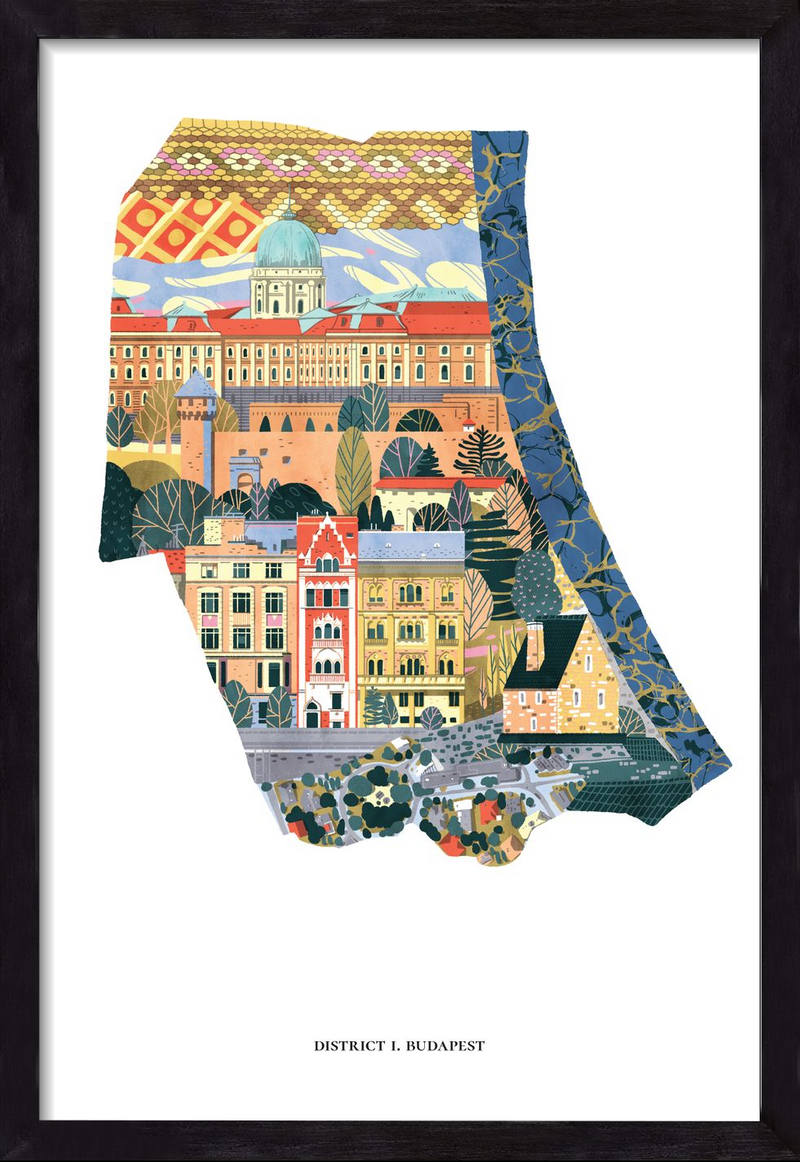 Ali Buzás, District I.
You can order Aliz' artworks at this link in our webshop.