Meet our newest superstar: Sandra
What drives you, inspires your creativity these days? How has your work flow changed during these challenging last three months? (During COVID)
These days I try to connect with myself and observe memories and complex feelings. Although I love experimenting with different styles, abstraction is the biggest part of my work. It's like feelings converted to pure shape and colour. I also find it amazing how the viewer perceives abstract works, everyone has their own feeling and thoughts about them.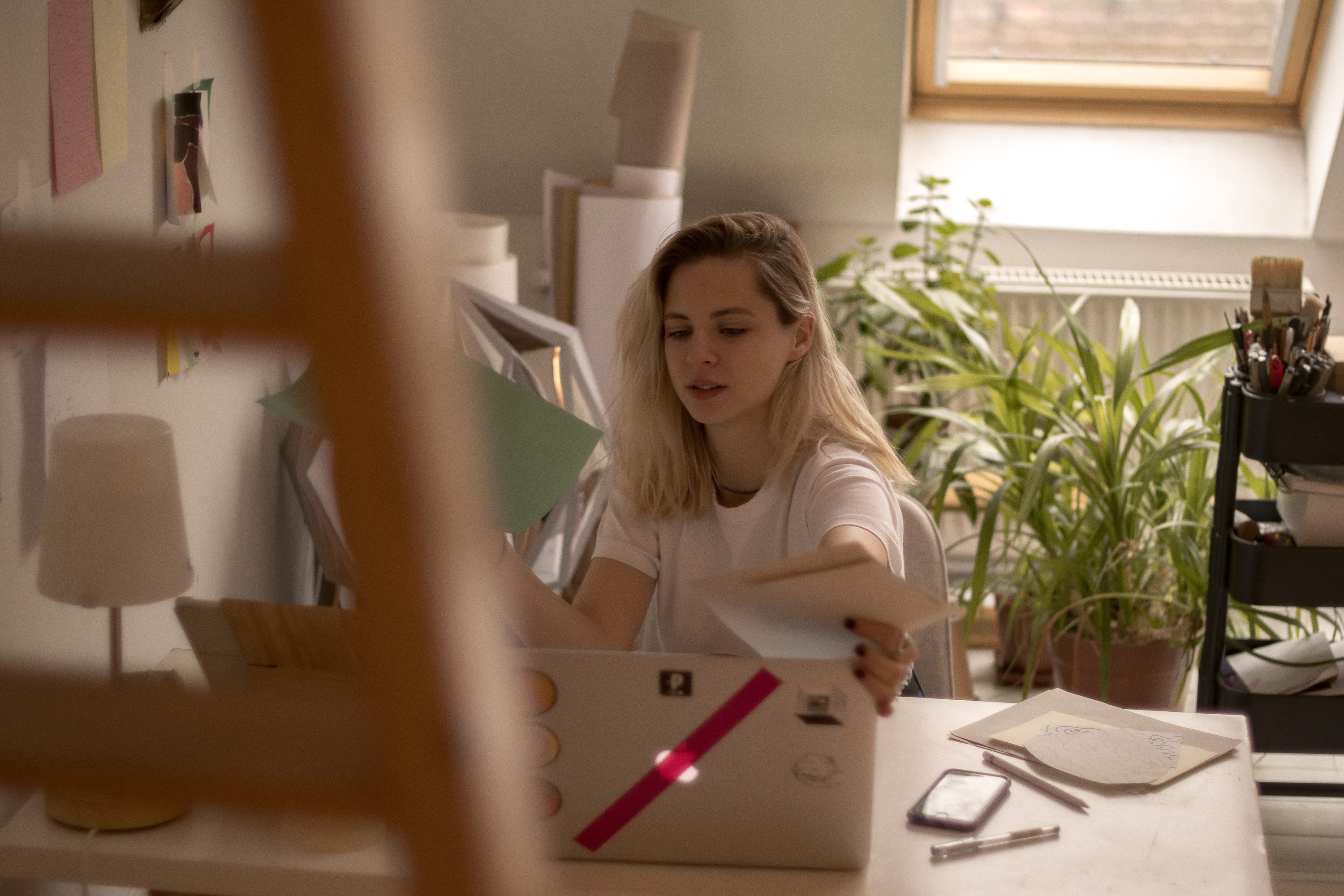 Photo by Photo by Maxim Biljarszki
I have not been negatively affected by the virus. Of course, financially it has been a bit tougher but it's not a major problem. I found this time very interesting actually. Not meeting people freed a lot of creative energy for the ideas I've been putting aside. Some clients postponed our projects, so now I could fully focus on my personal work and reflect on my professional path. I'm really grateful for this experience.

Why did you choose Budapest for your town? What do you like the most about this city? What would you change about it?
It was very random :) My partner is from Budapest and after finishing my MA in Barcelona I had to decide where to go (or at least where to put my luggage). I didn't want to stay in Barcelona nor to go back to Moscow (where my family lives) so I picked Budapest. I had no plan at all and no idea how life works. I fell in love with this city forever. It's so cinematic and even after 4 years here it still feels incredible and I catch myself thinking "wow! This is where I live!". I really like the calm lifestyle that the city dictates.
The things I don't like are not many, the main one is I feel like a lot of people are not happy with their life. Something that I'm trying to show with my blog is that simple everyday things like grocery shopping and simply walking outside can make your day.
As a freelancer graphic designer, how do you manage to stay focused during the weekdays and still 'go with the flow' and get inspired?
Well, I like working very much and I try to only take projects which inspire me. I think the big secret is that most of the things I do are things I love doing. Going for a walk, cooking and eating, dressing up, creating, doing grocery shopping, watching movies, reading and spending time with my partner - these are things that take most of my time and they give me a lot of energy.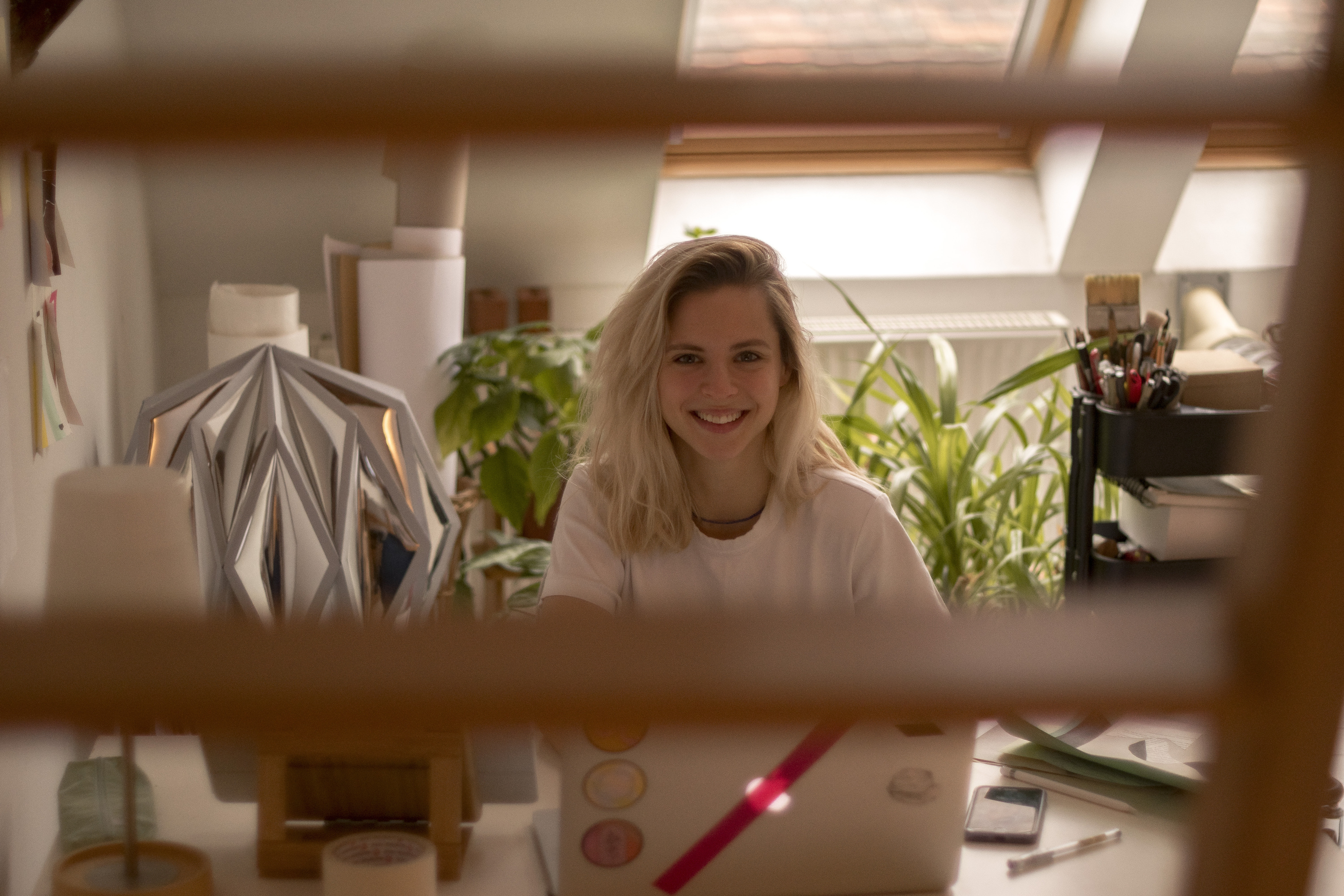 Photo by Photo by Maxim Biljarszki
If I feel unfocused or uninspired I let it be and go for a walk or get some rest. I find that pushing myself, in this case, is unproductive because I'm not working effectively nor resting.
Who are your favorite artists/idols/inspiring personalities, and which part of them can you connect with?
I wouldn't talk about idols or personalities, I'm not really interested in people I don't know personally, but there are a lot of artists whose work is inspiring for me. In fact, I think they are too many and it's hard to pick a few. If I had to name 3 that first come to my mind at this moment they'd be SANAA, Hilma Af Klint and Jim Jarmusch. But tomorrow this list will probably be different :)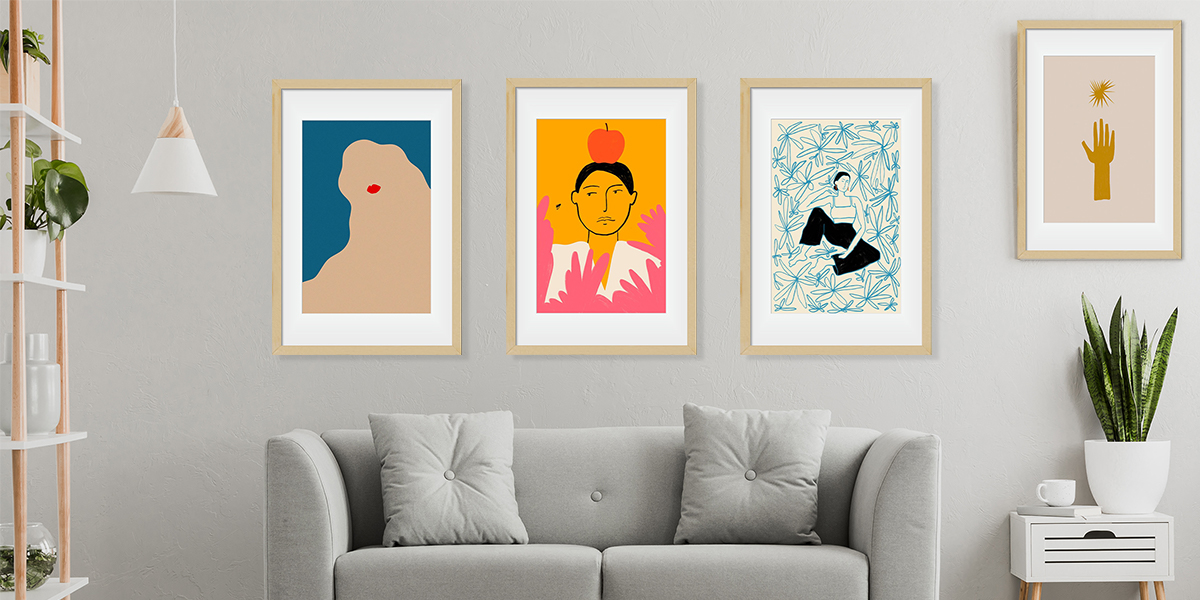 Sandra's prints are only available at www.artbridge.hu, with optional size and frame colour.