The purpose of our artist interview series is to take a closer look at what kind of cool people are hiding behind the great design images! The name of Dodó Kránicz is not unknown in the profession of an illustrator, the designer who became a journalist is on many home pages and is involved in super projects, which is why we are happy and proud to find your fantastic, explosively colorful figures here. She draws on her creative ideas from a beautiful childhood, her motherhood and important social thoughts. Behold, Dodo, the unrepeatable!
What were your first drawings that you specifically remember?
I've always loved drawing people, especially female figures. When I was little, I drew much more feminine women: princesses with long hair, big skirts, and breasts so embarrassingly accentuated that my drawing teacher once erased me. Later, I was much more consciously concerned with other topics, and I usually tried to process them though portraying.
What is your best memory from your childhood?
I had a very cool childhood, so it's hard to choose. But I have two rather striking memories: my mom gave birth at a relatively young age, and it's partly because of that she was terribly enthusiastic and energetic in the five years she spent at home with me and later my brother. One of our favorite games was the Lion King role-playing game, in which I assigned the role of Simba to myself and the role of his friend, Pumba, to my mother. We spent whole days crawling on the ground like Simba and Pumba, peeking into the bedding cave. But for some reason it also remained vividly, when we made almond balls colored with all sorts of colorful food dyes - Mom always had some idea to make everything a fairy tale and a toy.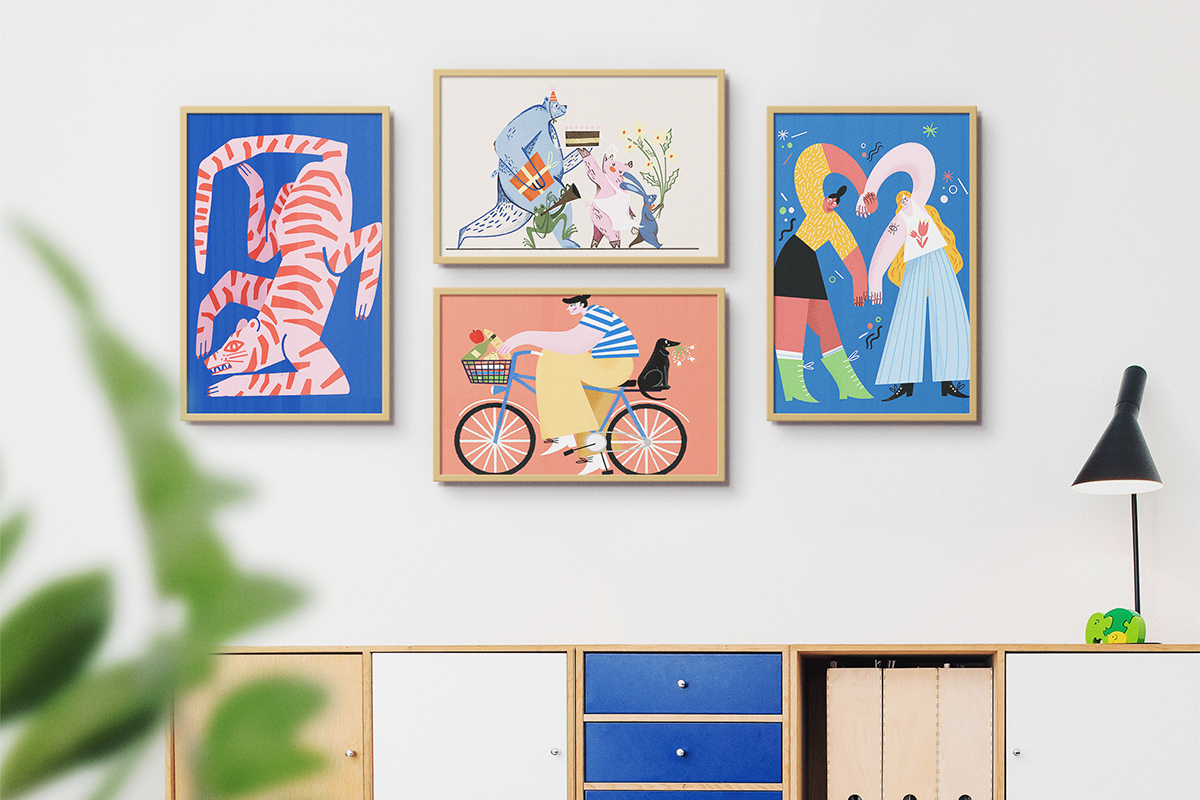 Where did you learn to draw, to whom do you owe most of your teachers?
I have attended quite a few drawing circles since I was a child, but the most significant one was clearly the Gallery Circle in the National Gallery, where I learned from Gábor Lajta and István Sinkó. Their style was very different (both as a person and as an artist), they stood differently for the creation, so it was very good to get different impacts, always fresh comments from them. Somehow the whole mood was really good anyway, really every time those three hours went by terribly fast.
Now what do you do for living, how are your creative days going?
I answered this question for a very long time by basically working as a journalist and being an illustrator, but I don't really know what to say lately because the work of illustration is getting more and more emphasized in my life. I spend a significant part of my day with my little girl, which is a great opportunity to think and get inspired: many times, good visual solutions and ideas pop in while walking or being on the playground. However, I am used to draw alone, so these hours are not only about work, but also about myself, in which case I can really immerse myself in something, set aside my maternal identity for the benefit of my creative self. By the way, I am currently working on several big projects in parallel, which fortunately are all very exciting and different. In addition, I always try to take time to draw for myself, and I have a great desire to work more with analog techniques in the near future, especially with painting.
Your favorite city? Favorite place to travel?
I really like Florence, and the whole Italy, if I had to live in a foreign country, I would definitely move there. If, on the other hand, I could travel anywhere, I would travel to Southeast Asia - my husband and I went on an Asian tour three years ago, we got to Thailand, Cambodia and Vietnam, but I would love to see the Philippines or Indonesia as well.
Who is your favorite writer? What kind of music have you been inspired by lately?
I really like Elena Ferrante and the way she processes fate stories and experiences, but Zadie Smith, Lauren Groff and Lydia Davis are also close to me. If not one of Gryllus William's albums is on, I'm listening to my old favorites: Romare, Shabbazz Palaces, Godblesscomputers, James Blake. But frankly, for the sake of time efficiency, I tend to listen to interviews or podcasts while drawing lately, and music is only very rarely played.
How much has your life changed in the last year or two?
Entirely: It's been two years since my baby girl was born, which in itself has made a huge difference, but I can also thank her for starting my career as an illustrator. In the first months after he was born, it was relaxing to be able to draw a little while sitting on the couch, and this — although I never stopped drawing completely — gradually made me realize that this was the time I experienced a flow experience, something of a calm, happy satisfaction. During this special, slowed down period, despite physical fatigue, I felt much more creative, gaining space to develop my own style and control my visual focus. This is an amazingly exciting and very happy time in my life.

Dodo Kranicz's graphic designs are available at this link.