Meet the artist: Ágota Végső / Aquarelles and drawings
You finished animation school so art is not far from you. When and how did you start to paint aquarelles next to filmmaking?
Besides a few childhood landscape tryouts I started painting aquarelles around 2014. At that time I was living in Lisbon as an animation teacher at one of the universities. I was in a big need of Christmas gifts for my family. Living in the city of tourism I was surrounded by all these paintings of the famous Tram 28. Why shouldn't I make something like that for my family? So I did. The pictures were happily received and I decided to keep on making more afterwards. In the beginning I was painting just a few per year but by summer 2017 it became a regular habit. Ever since then I always bring my painting set for my travels. I love drawing buildings with all the polygon shapes and repeating elements. Lately I have been obsessed with painting even landscapes, not just in aquarelles but in bigger size with acryl as well.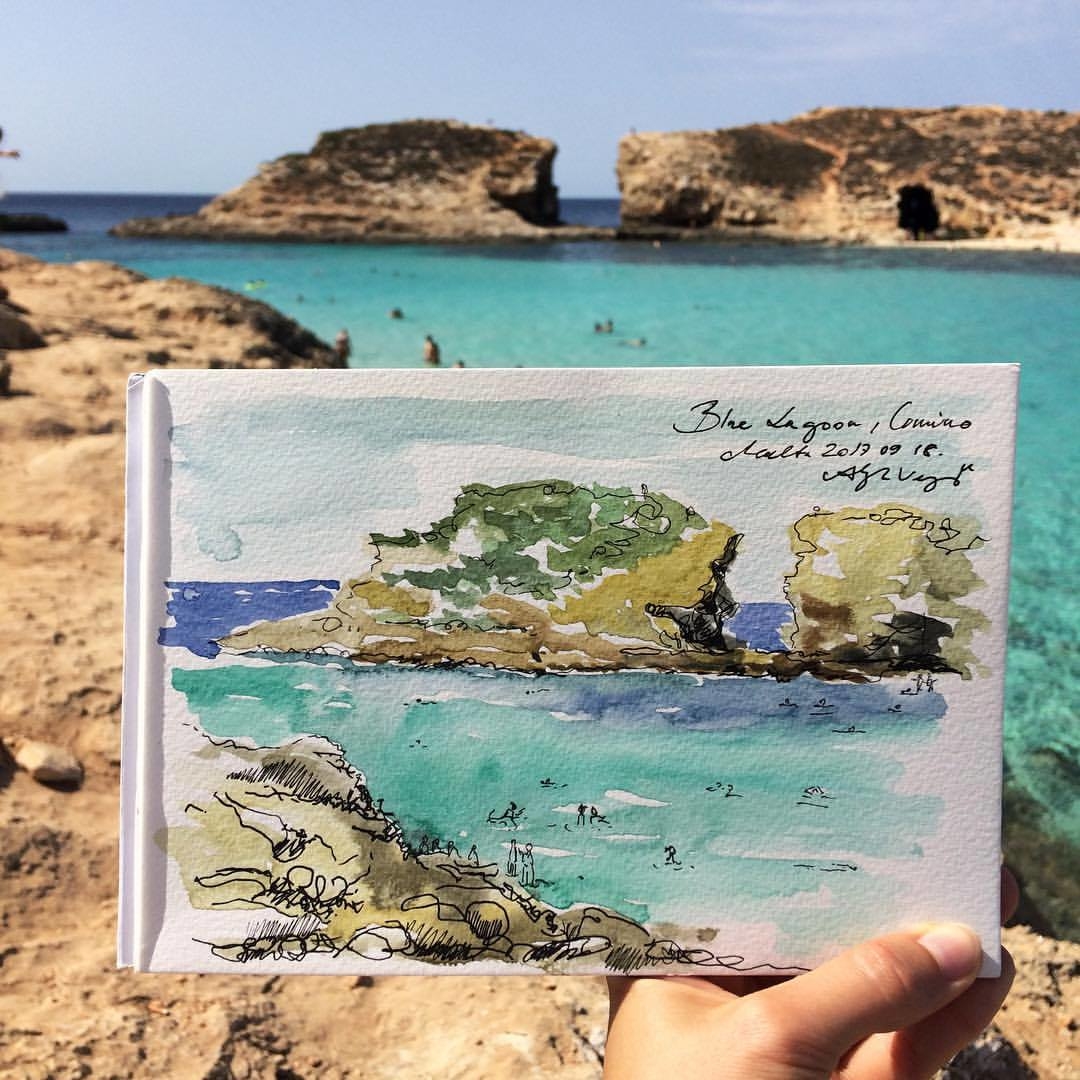 You could paint from photos as well. Why is it important to you that you paint outside?
Making travel sketches and aquarelles have a worldwide fan group. It's really easy to get inspired by the posts under 'urbansketchers' and 'travelsketchbook'. I fell in love documenting my travels by drawings because the fact that I have to sit at the place gives a special experience. I pay attention differently when I'm drawing the buildings. I also interact with the place and the people passing by. It's never the same. Sometimes I draw fast, other times slower. Sometimes I draw with patience, others in a hurry. There are times when I love the process but the final result is not pretty or the opposite when I feel the painting is not my best but the last lines give a special taste for the whole picture. Aquarelle can also surprise you after it's dry with new details or mistakes - happy accidents!
Painting in the streets must attracts a lot of eyes. Can you tell us some of your experiences while painting outside?
Many of my paintings holds a sweet story. Twice I got an extra coffee from a café and another time an immediate buyer for a freshly finished picture. I also gave a drawing to a kind Chinese lady in Warsaw. After that we started to talk. She introduced me to her whole family and her touriste group started to take photos of me.
Sometimes it started to rain or I started to use as paint the coffee or red wine from the table.
One of my favourite stories happened last year when I went to Lisbon for a short visit. I was in the middle of drawing a curly street in Alfama district sitting on the narrow pavement when somebody offered me a piece of candy. I turned my head thinking 'Who accepts candy from a stranger?' One second later I realized it was my highschool friend I had not seen for ages. Equally nice memory was when we were doing a workshop in Cyprus. In the break we were chilling by the pool at the hotel. One of the waiters complimented me on my aquarelle and just moments later it turned out that she was also from Hungary and loved to draw.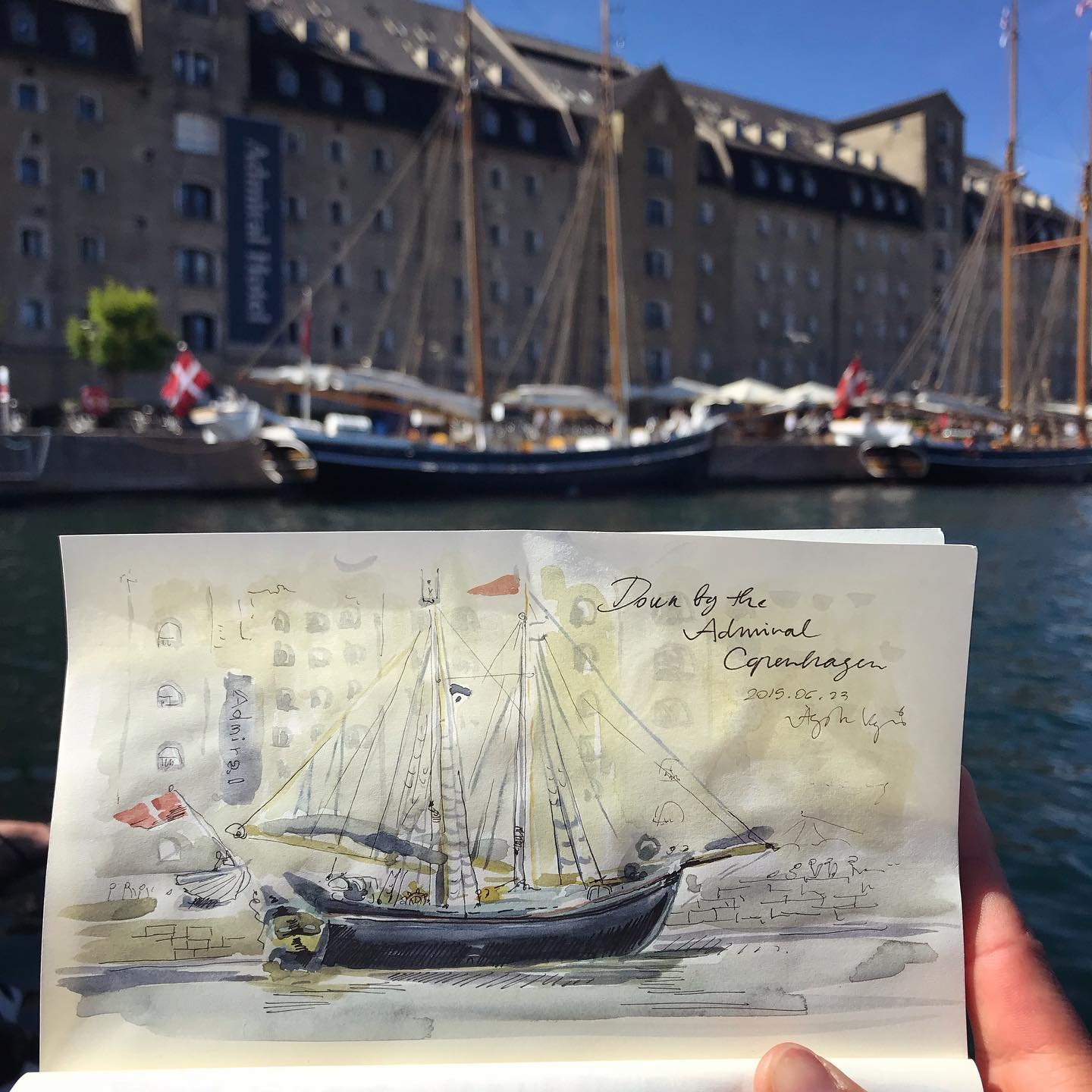 What motivates you?
Doing aquarelles is a really positive activity and the people around me likes to be part of these moments. Strangers are taking photos while talking to me. Friends like to sit next to me and follow the process. Being a painter includes a lot of failing attempts. Often I get nervous after an unsuccessful session but the fact that I have to go out to look for the right angle makes me happy and charge me with an energy I cannot describe. I very much enjoy that all places bring something new - it's hard to get bored when you feel this way about your work. It feels great telling my adventures through my drawings - it makes everything more personal to me, I want my audience to feel what I felt when I was sitting there.
The next story also happened in Portugal. During my holiday I was showing my drawings about our trip from the day before in the hostel. A guy started to point at a building where he had been working as a chef. Few days later when I returned to the university in Lisbon I was telling the story to my colleagues when one of them pointed on my drawing and said that he used to live just above that restaurant where the other guy used to be working. These stories are so great. I love that my drawings evokes memories and are relatable to my audience.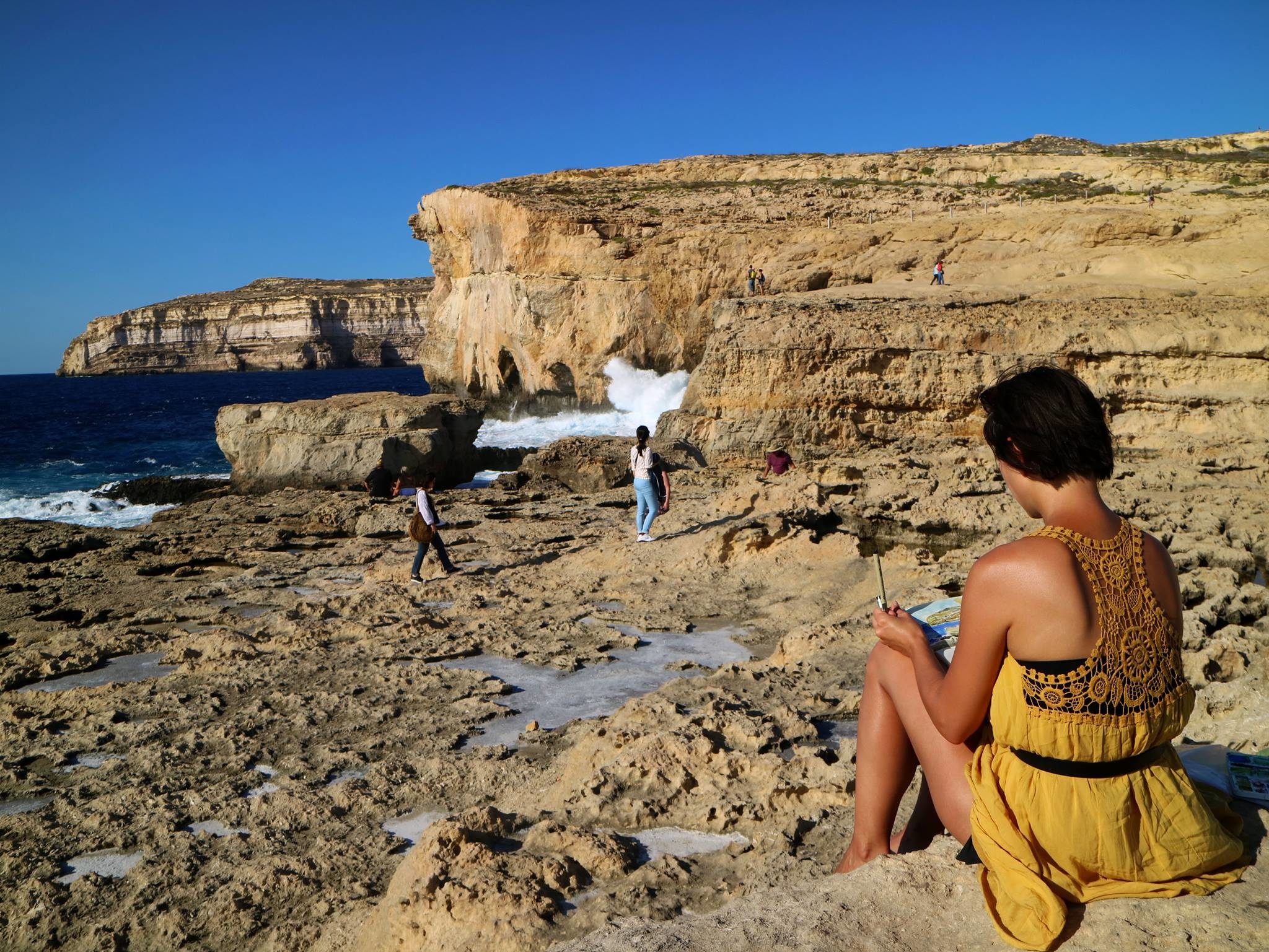 We heard that you will have an upcoming exhibition. Can you tell us more?
I would like to give a heads up to the audience on my upcoming exhibition. This time I will exhibit not just the aquarelles but the photos that I took when I finished these paintings at the exact location. I always post these pictures on my instagram:
I always try to take a photo with the aquarelle as I finish them. You can see all these and hear my story. The event takes place on the 11th of July 2019 in Hungary at the Academy Golf Budapest at 19h. From 20h my talented friend Bukky will give us a concert on the balcony with the guitarist Pál Barta as the formation called Bukky&Barta!
I look forward to greet you all.